Transparent Silicone Wig Fix Band To Secure Lace Front Wig Sweatproof Head Band Non Slips Wig Grip Band
$9.99
Regular price
$39.99
Tired of your wig slipping and damaging your hairline?
Then this wig grip band is for you.
The wig grip band is a specially engineered, patent pending silicone gripper that keeps wig in place. Folded length is is 23cm, extended length is 24-25cm; Width is 4cm; Weight 25g.
Softest, stretchable, breathable!
INSTALL A WIG IN ONLY 40 SECONDS! NO GEL, NO GLUE
ROLLERCOASTER PROOF SECURITY
A complete stop to your wig slipping back and sliding around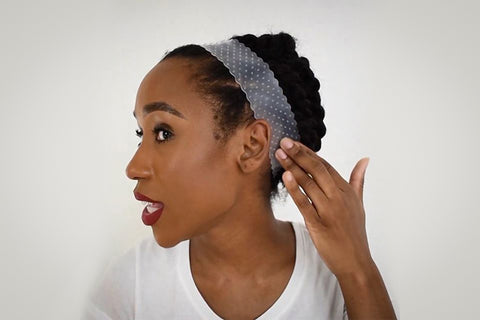 PROMOTES HAIR GROWTH
Our patent pending design simultaneously protects and stimulates the scalp which induces natural hair growth overtime
EASY TO APPLY
You can apply and remove the wig grip band in seconds
It's non-sticky and doesn't snag on your hair
REUSABLE FOR YEARS
The wig grip band has unlimited usage and will last for years with good care
UNIVERSAL SIZE
The wig fix band is a universal size, fits all head sizes between 17 to 25 inches (that's statistically 98% of the worlds population over the age of 12)!
FAQ:
Will the wig grip band fit me?
Yes!
The wig grip band fits head sizes between 45cm and 65cm (17-25 inches). 98% of the worlds adult population (UN/WHO statistics) is within this size range. 
It can also be worn on heads with or without bio hair.
Does the wig grip band work with frontal wigs?
Yes! The wig grip band works with all full glue-less wigs (full lace, wefted etc). So your wig must be be fitted or have an ear to ear band to ensure the maximum grip.
How long does the wig grip band last?
The wig grip band will last for years with good care.
Does the wig grip band show?
Not at all, the wig fix band will be fully covered by your wig.
It is also X-ray transparent so suits all skin tones. It can also be easily tinted.
What is the wig grip band made out of?
100% hypoallergenic silicone
What happens if I sweat?
The wig grip band is water repellent and heat dissipating so sweat and moisture will not affect its gripping ability.
However the wig grip band must be initially applied onto a dry head with a dry wig.